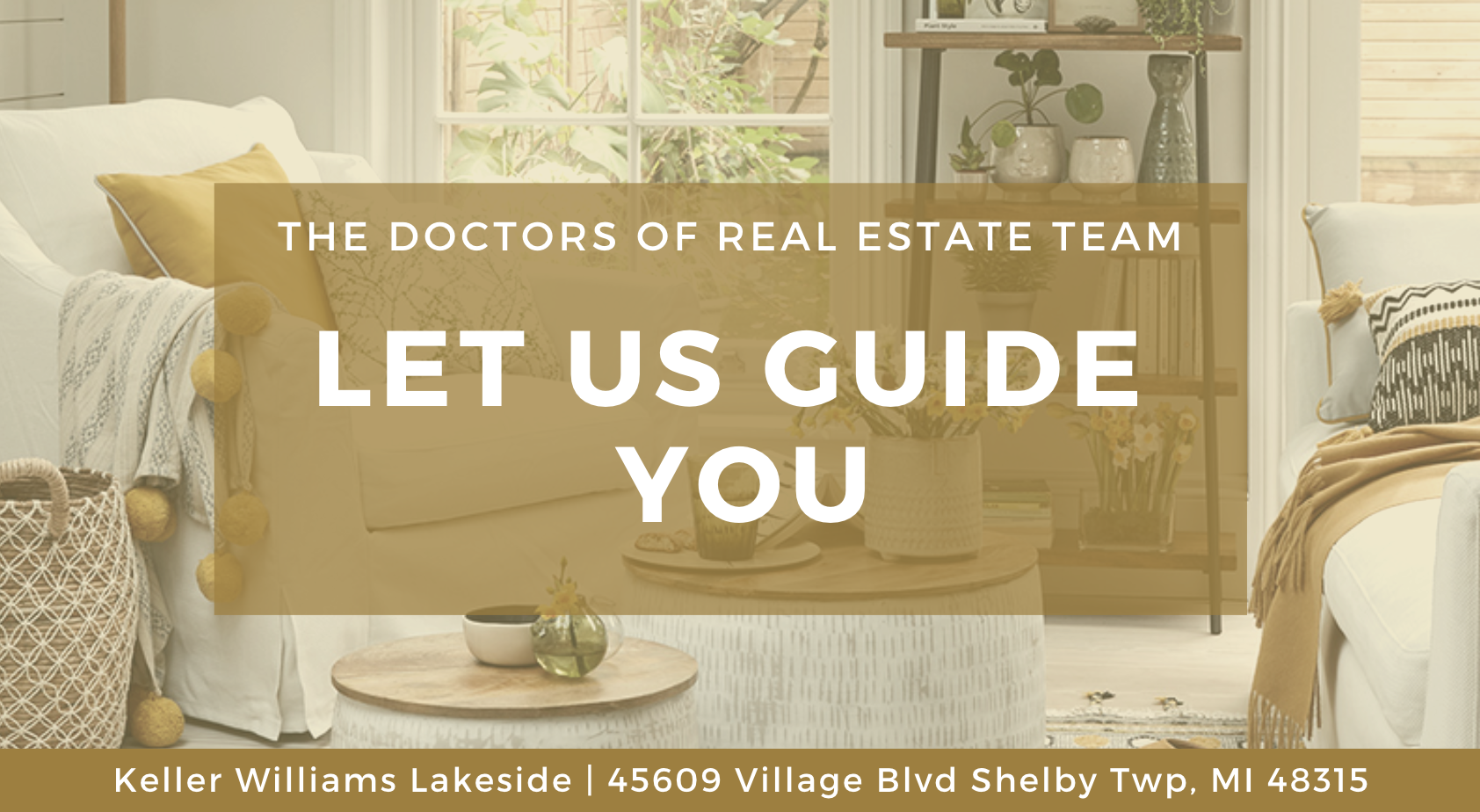 We are an award winning team of Realtors that specialize in all aspects of Residential Real Estate. We have experience in Private, Bank Owned, Short Sales, Probate and Property Management. Listing Specialist, Buyers Agents and Property Management Department. www.thedoctorsofrealestate.com
*As Seen on TV Featured To Xfinity clients.
*Childrens Miracle Network Award Winner

*Featured In Hour Media and Detroit Home Magazine as top 5% of Realtors in the Detroit Metro Area 3 years in a row.
*Keller Williams Triple Platinum Award for over 300 homes sold.
*Featured in Top Agent Magazine 2017 - 2019

*One of the Top Keller Williams Teams In the Detroit Region.


Call the team that has earned the trust of thousands of satisfied clients over the years. We pride ourselves in client satisfaction and have always exceeded our clients expectations. Looking to buy or sell? No worries, We'll help you out!! Call Us Today:

855-437-7653





Tim helped find the perfect for home for my fiancé and I. He made the experience smooth and simple for us first time home buyers! Very knowledgeable about the Clinton Township area. Highly recommend!
by Bought a Family home
Tim was very professional handling the sale of my mothers house. He was approachable and answered any questions I had. The whole process went very well. I would highly recommend him.
by Sold a Family home
Jon is a really great agent, he made the whole process feels so easy and smooth, he was by our side the whole time, he answered all of our questions even before we asked some of them, his responses were always quick and with the exact information that we needed. Highly recommend Jon if you'd like to get a home without hassle-free just let him know the things you want in a house and he'll get you what you wanted
by Bought a Family home
Everything was great about Istillita but what was really just top-tier was her responsiveness! She would probably have 1000x things going on in her life and you wouldn't be none the wiser! As soon as you messaged her, she must have dropped everything and gave you the best answer, right away. This is so important to the home buying process. Agent? More like life coach and personal concierge! What a pleasure Istillita was. Bravo!
by Bought a Family home
If there was a sixth star to give, I would give it to Tim. He's the most on the ball realtor I've ever worked with, he's friendly, professional, and helped us get into the house we needed. He never failed to respond to a call or text in 30 minutes or less, set up showings promptly and at our convenience, and gave expert opinion on individual houses and the areas in which we were looking. We highly recommend him to anyone looking for a house. Working with Tim was a pleasure!
by Bought a Family home
Excellent, she is very helpful and knowledgeable about house selling and buying also helping for house loan, so some one can get her service, she paper works are good, we are happy with work with her, also my friends and family happy with her. Istillita was amazing to work with!
by Sold a Family home
Jon was helpful from the day we called. We called on a Sunday early afternoon, never met before, and he met us to show us houses right away. He was great all the way through until we finally got our first home! Thanks Jon! We appreciate it so much! Thanks for working with us the whole way through!
by Bought a Condo home
He is a pleasure to work with. He is one of the most motivated and easiest agents I have ever worked with. He has a strong personality that will get exactly the deal you are looking for. He does not pressure his clients, and he gives wonderful real estate investment advice. I recommend him 1000%!!! Jesse was a pleasure to have worked with!
by Bought a Multi Family home
Patti was very helpful! She responds very fast, and is very on top of things. She's full of information and is willing to help in any scenario. I loved that she had a lot of personality too. She seemed to actually care about our preferences, opinions and made sure we were able to get what we wanted, and would offer professional input where it was needed without coming off as pressuring or rude.
by Bought a Condo home in April 2021
<script type="text/javascript" src="https://www.fastexpert.com/badge/five-star-badge.js?bs=211&u=MTIwMTk=&ur=c2hlbGJ5IHRvd25zaGlwLW1pL2NoYXJsZXMtdGFtb3UtMTIwMTkvP2FjPXRyayZ0eT1mc2I=&ty=fsb"></script>