Friday, June 23, 2023 / by Management | Doctors Of Real Estate
2 Minute Read
At Top Agent Realty in Troy, we greatly appreciate and find immense inspiration in the narratives of families who have encountered challenges within their home layouts, transforming them into remarkable resolutions. These accounts, which we refer to as "feel-good stories," serve as a testament to our unwavering commitment to creating remarkable living spaces that cater to the unique needs and desires of our respected clients.
The Challenge:
Rob and Danielle, a couple blessed with three children, sought a kitchen renovation to enhance the functionality of their bustling household. Their existing kitchen suffered from cramped areas and an obstructive narrow island that interrupted the flow within the room. The limited space failed to accommodate two cooks simultaneously, rendering it unsuitable. Furthermore, when hosting gatherings, the island proved inadequate for displaying their array of food and providing sufficient room for guests to gather around it. Adding to the issue, the sole pathway to the great room, the family's favored gathering spot, necessitated walking through the kitchen and dining room, making the congestion even worse.
The Remarkable Resolution:
With the aid of an interior designer, Rob and Danielle transformed their space into a stunning masterpiece! Being passionate sailors, the couple desired to infuse hues resembling the sea into their design. They created a separate entrance from the kitchen to the great room, reducing congestion. A designated work triangle was established, and the island was carefully designed to allow a clear line of sight from the sink to the great room. A stylish bookcase was seamlessly integrated into the island, showcasing cookbooks. The refrigerator was paneled to match the cabinetry, creating a harmonious wall. The entrance to the formal dining area was relocated, optimizing flow. A dedicated bar area was added for convenient beverage preparation. A tranquil glass backsplash tile, reminiscent of sea colors, was selected. Sparkling crystal pendants were strategically placed for a touch of brilliance, like sunlight on water.
This awe-inspiring transformation serves as a powerful reminder that buying a home doesn't mean settling for less. Every space can be customized to match your desires and needs. If you're ready to turn your dream home into a reality, contact us today. We're here to help you achieve your goals and aspirations for yourself and your family.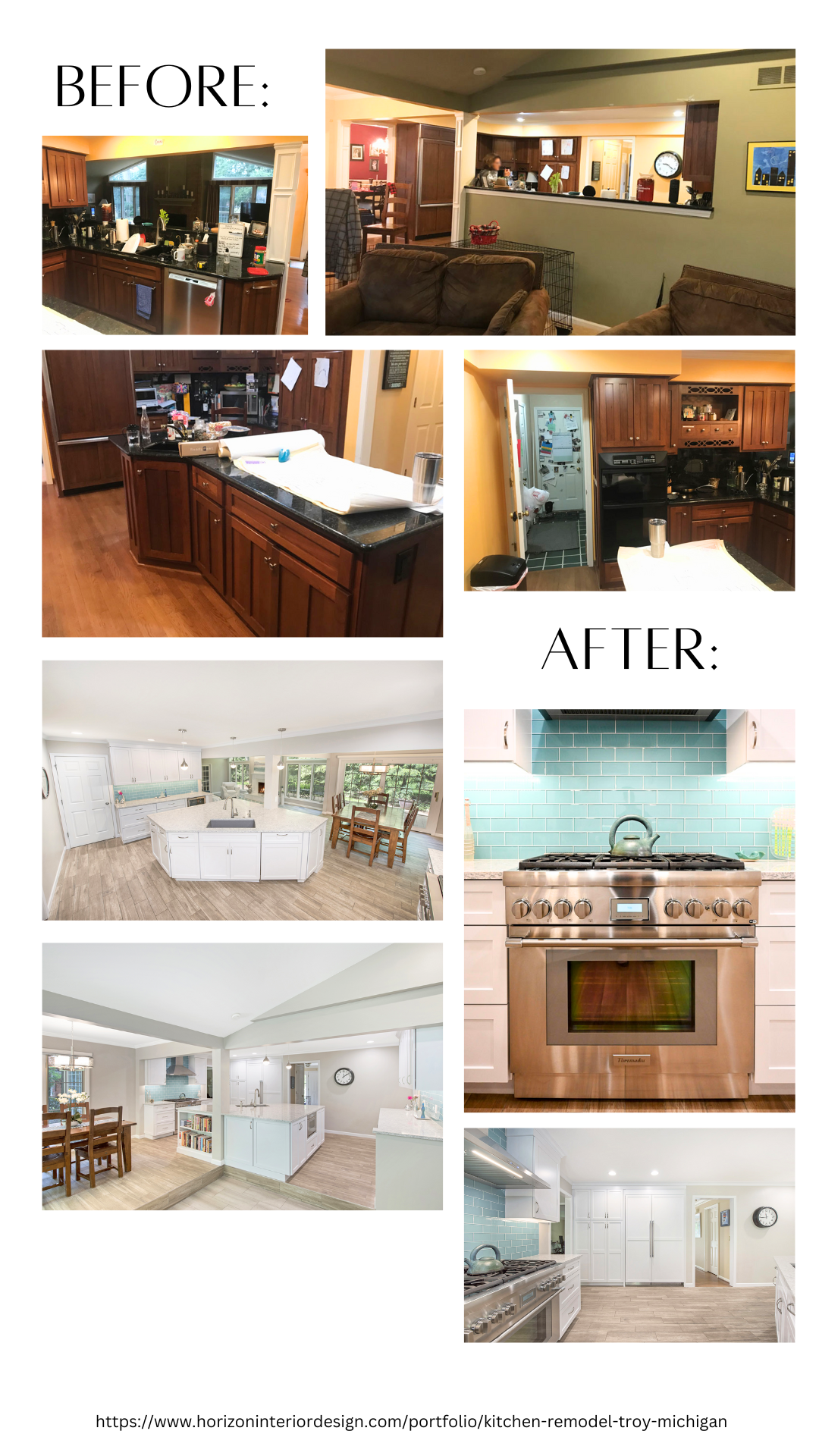 ---